Breanna and I discovered during our initial meeting that we had been "neighbors" in my rural community for a short period of time when she was in high school. It was evident from the start that she was passionate about her wedding and the flowers she was envisioning for her special day early in July!
---
Lacy, romantic with a touch of Bo Ho and sparkly rose gold sequins embodied the whole look and feel of this special wedding day with touches of love everywhere!
---
Spray Roses entwined in her hair along with her bouquet made this stunning bride an authentic picture of sweet loveliness!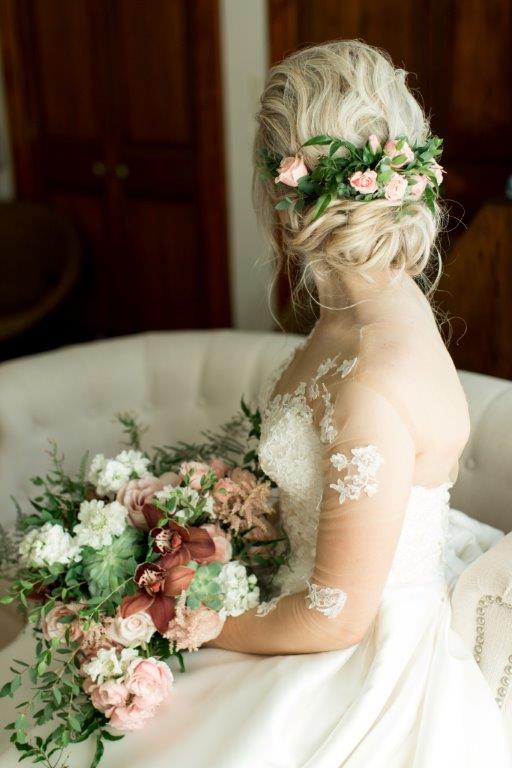 ---
Since Rose is Breanna's middle name, Roses were "must" to be incorporated in her flowers and I pitched a unique idea to Breanna for an aisle runner made out of Rose petals in the shape of two stems of Roses. Although I had no picture to show her as I had never seen it done, she graciously put her faith in my idea and we were both thrilled with the results. Even though we had 40 mph wind which put a curb on the depth of the Rose petals, the custom look was still achieved.
---
---
The lush textured garland was repurposed from the outside arch at Rustic Oaks to inside at the reception. Such a great way to get more "bang for your buck"!
---
---
---
Rose gold compotes, lanterns and heart shaped designs graced the guest tables at the reception.
---
---
---
It's fun to be delightfully surprised to discover flowers in unexpected places!
---
Erik & Breanna's favorite holiday is July 4th. Breanna played with smoke bombs for some of her abstract college photography projects, but thought they would be a really unique "prop" for their wedding day. She discussed her idea with her photographer, Abby Anderson, and she created the magic on camera!